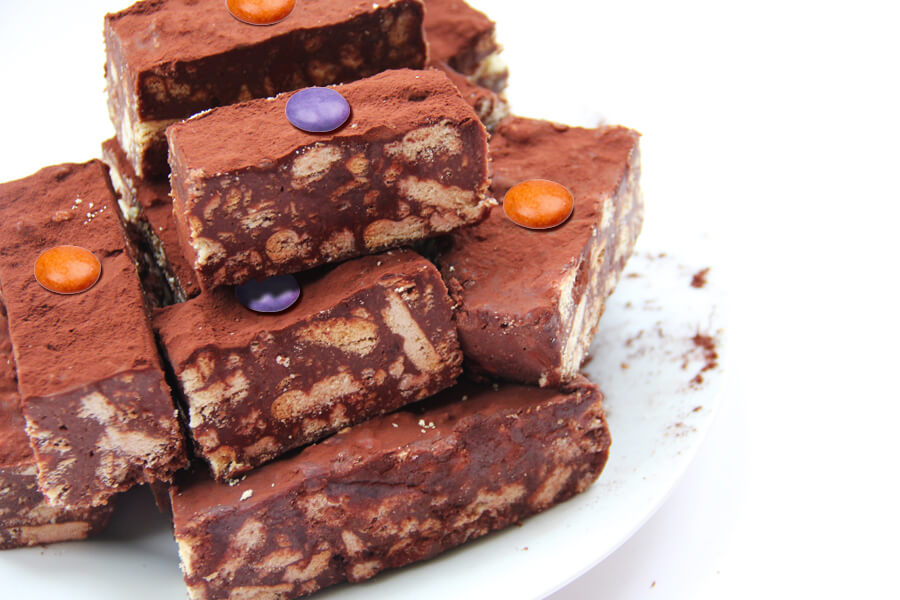 So here we are, into school summer holidays and paddling pool sales are up on last year, ice cream sales are probably rocketing and here at YouCash we thought we'd share some easy and kid friendly recipes, that won't break the bank.
One of our favourites is the chocolate refrigerator cake…of course we needed to sample several recipes to find our favourite (all in the name of research of course) and the BBC Food version was a clear favourite, so we're sharing!!
Ingredients
• 250g/8oz digestive biscuits
• 150g/5oz milk chocolate
• 150g/5oz dark chocolate
• 100g/3½oz unsalted butter
• 150g/5oz golden syrup
• 100g/3½oz dried apricots, chopped
• 75g/2½oz raisins
• 60g/2oz pecans, chopped (optional)
 Preparation method
• Use cling film to line a 20cm (8in) shallow, square-shaped tin. Leave extra cling film hanging over the sides.
• Bash the biscuits into pieces using a rolling pin. (Put them in a plastic bag first so they don't go everywhere!)
• Melt chocolate, butter and golden syrup in a heatproof bowl set over a pan of simmering water. Stir occasionally.
• Remove the bowl from the heat and stir in the broken biscuits, apricots, raisins and pecans (optional).
• Spoon the mixture into the tin. Level the surface by pressing it down with a potato masher.
• Leave to cool, and then put the chocolate mixture in the fridge for 1-2 hours to set.
• Turn out the cake and peel off the cling film. Dust with cocoa, cut the cake into 12 squares and enjoy!
Top Tip: Marshmallows, honeycomb and meringues all work well as alternative fillings – just chop them into small chunks and mix in with the melted chocolate mixture.Great idea…we tried it!!!! We added the purple and orange Smarties…well they are our corporate colours.
The next recipe is quick, easy and lots of fun, it's a build your own pizza – it's a great activity to do at kids parties as well, let's face it…building your own food is always a winner!
Pitta Pizzas
Ingredients
• 4 whole-wheat pitta breads
• 4 tsp (sun-dried) tomato purée
• 3 ripe plum tomatoes, diced
• 1 shallot, thinly sliced
• 100g hot dog sausages
• 50g mature cheddar, grated
Preparation method
• Heat oven to 200C/180C fan/gas 6 and put a baking sheet inside to heat up. Spread each pitta with 1 tsp purée. Top with the tomatoes, shallot, chorizo and cheddar.
• Place on the hot sheet and bake for 10 mins until the pittas are crisp, the cheese has melted and the chorizo has frazzled edges. Scatter with basil, if you like, and serve with a green salad.
For more inspiration on kids cooking, please visit:
http://www.bbcgoodfood.com/recipes/collection/kids-cooking
http://www.jamieoliver.com/recipes/kids-recipes
http://allrecipes.co.uk/recipes/tag-5515/kids-no-cook-recipes.aspx