Top tips for enjoying Christmas on a budget
Avoid the January bank-balance blues with these top tips for enjoying Christmas on a budget…
Plan ahead
It may seem obvious, but the sooner you start prepping, the less hectic your December will be… think about it, Santa spends all year prepping, right?
Get everything sorted and planned before the big day, break it all down into manageable chunks that will fit in nicely with your everyday commitments. If you're a fan of organisation, start making some lists or spreadsheets – don't forget to check them twice!
Set out a list of everyone you need to buy presents for and set price limits. That way you know you'll stay within your budget! If you struggle to set up your own budget planner, you can download ours for FREE!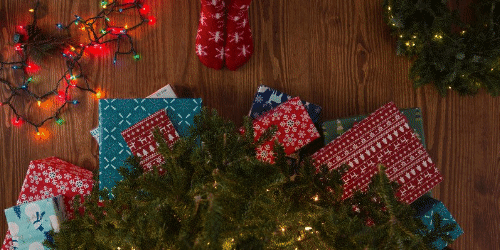 Deckin' the halls
Decorations don't have to cost an arm and a leg? we think it's time you visit a trusty friend… Poundland! Homemade decorations can add a lovely vintage feel too, not to mention it'll be a fun task for the family to get in the Xmas spirit!
The same can go for Christmas cards… what would your relatives appreciate more, a homemade Christmas card or one you bought for 99p? Gather your craft supplies and set out a work station for the Christmas festivities to begin in your home!
Simple things like filling jars with colourful LED lights can really make the place look Christmassy or tin foil stars!
The big ol' shop
It's so easy to get caught up in the supermarket frenzy, this time of year is always hectic! Stock up on non-perishables like frozen or canned products a little at a time in the run-up to December. This way, you can spread the costs out and avoid having to do one frantic Xmas megashop.
Lidl or Aldi are great for meals on a budget! If you're really struggling, try and swap a turkey Christmas dinner for a chicken Christmas dinner, you'll find they're a lot cheaper.
Making memories
Try trading in materialism, for memories… things that don't cost a lot but you will always remember. For example a trip to see Santa or a Pantomime. The best things to do on a low budget at Christmas is visiting Christmas markets!
For Christmas market ideas all around Europe, check out this blog written by Euronet, our parent company: 7 of the best Christmas markets in Europe!
You could even look for local community events like wintry walks or Xmas charity events.
Try making a list of all the things you can do for free/cheap rates like: Christmas caroling, admiring city decorations… these are the memories you will remember, not the over-expensive gifts (no matter how much you want them).
This can even count when you're planning presents for friends. Instead you can all decide on an activity you want to do as a group instead of presents and that way you're creating memories and saving money!
It's the thought that counts!
When you're watching your budget, Christmas can be a huge set back! So don't be afraid to suggest a Secret Santa to friends and family… you might even find that people will be as relieved as you to only have to buy one present.
Remember to never underestimate discount cards and coupons! You might think it's a bit of a lame present but it gives that person the option to get anything they want! There's nothing worse than buying someone something and feeling the vibe that they aren't keen on it.
You can find some great gifts in charity shops! And it's all for a good cause… what could be better?
Try buying joint family presents, this way you're saving money and you can enjoy yourselves as a family using them!
Nice and toasty…
Fuel bills tend to rocket as the temperature plummets during the winter. This can be a source of stress for many at this time of year. So layering up with socks, jumpers, blankets will be a more cost-effective, environment-saving way of battling the winter chill!
Never underestimate the power of a hot water bottle!
There's nothing more cosy than snuggling up on the sofa with blankets, hot chocolates and a fire burning whilst watching a popular Xmas film.
We all know with Christmas and New Year's Eve there will always be planned nights out, but who's to say you can't go out, have a great time and save money all at the same time! Check out our blog on how you can still have a great night out on a budget!
For more money saving tips, go straight to our blog page, you won't be disappointed!