Find out which is the best ATM for your business
When deciding whether to have an ATM in your business, there's one key decision that you must consider. Although there are many makes and modules of ATMs, one key difference is whether the ATM is internal (free-standing) or external (through-the-wall).
We have compared the two propositions, so that you can decide which will be benefit your business the most.
Are you aware that an ATM drives footfall to your store and increases customer loyalty? In fact, 80% of ATM users revisit the site at least once a week!
There is a step by step process on installing an ATM for your business:
Step 1: Decide that you want to install an ATM in/on your premises.
Step 2: Decide whether you'd like an internal or external ATM.
Step 3: Find out if your store is eligible for a YourCash ATM.
Step 4: YourCash install the ATM free of charge.
Step 5: Enjoy the increase in footfall, revenue and all of the other benefits!
If you're visiting this blog on your mobile, click here to view this infographic separately!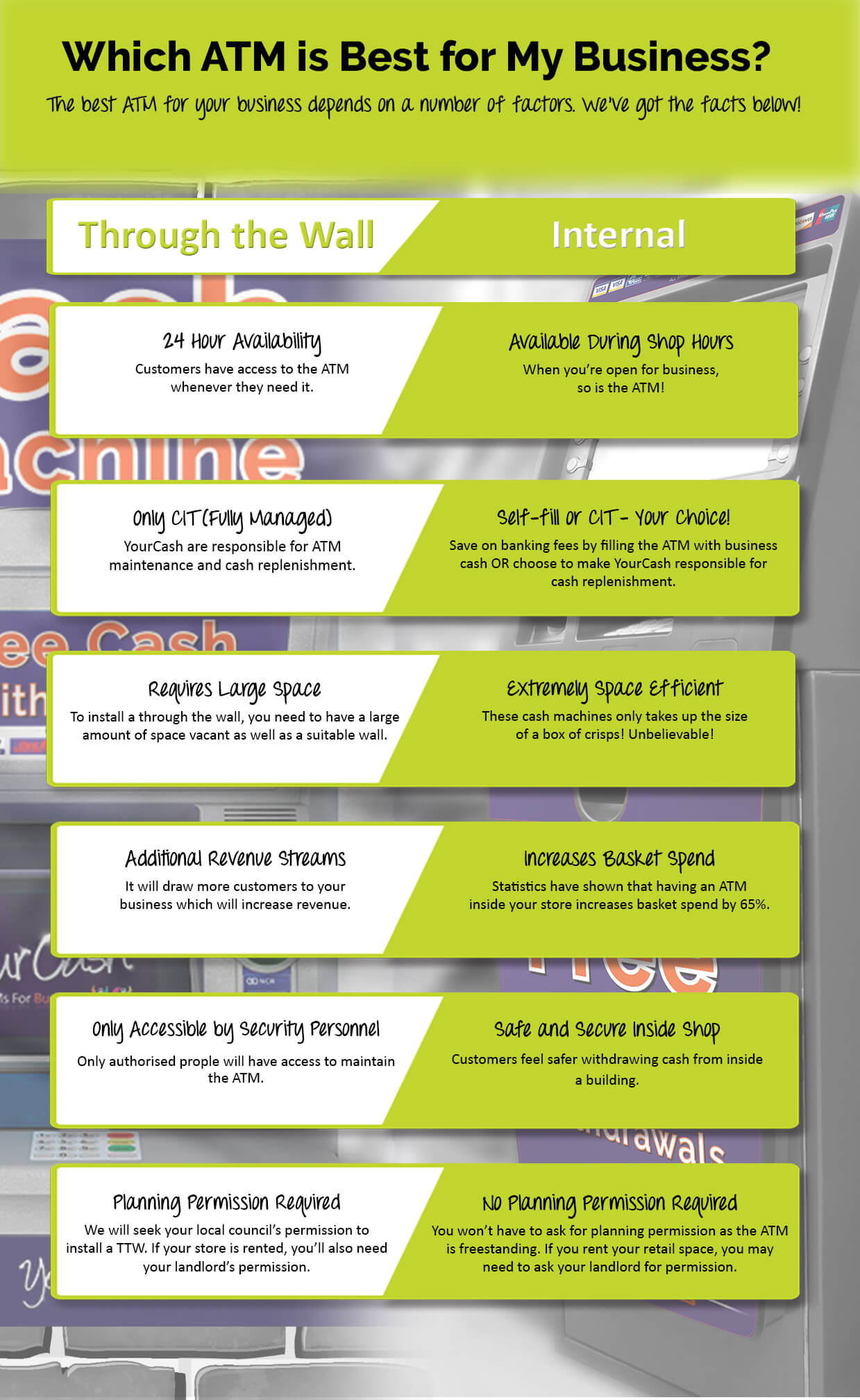 If you are still unsure on which path to take, you should try out our interactive ATM Calculator! It's fun and by looking at the statistics you provide, we'll be able to tell you how eligible you are for a YourCash ATM and which would be the better model.
However, if you prefer a more personal form of contact, we also have a very friendly team that are happy to take your call, talking you through the options and make personal suggestions based on the information you provide. Don't be afraid to give us a call on 0800 032 0707 or fill out our contact form here.
If you can think of any other pointers, we'd love to hear them so please feel free to tweet us @YourCash